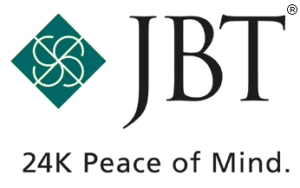 Since 1884, Jewelers Board of Trade has been the cornerstone credit bureau in the jewelry industry. Their classic Red Book is ubiquitous on the desks of industry players across the globe (now available in a less conspicuous mini-USB or mobil app version!), their State of the Industry overview enables members to stay up-to-date with the dynamics shaping the jewelry industry, and their comprehensive, jewelry-specific credit reports allow businesses to make informed decisions about who they're partnering with.
JBT has been a long-time partner of the JA New York Shows so we wanted to break down some of the practical reasons one should become a JBT member!
1) Find the Right Partners:
JBT's credit reports list a company's current credit rating, number of credit inquiries in the past 90 days, collection claims and trade payment history. In addition to the aforementioned Red Book, which provides 24/7 access to over 27,000 companies, your membership entitles you to 25 free specific credit reports each year. This way you can make informed decisions about if and when to extend credit lines, increase your terms, or re-evaluate your risk.
Membership in JBT helps retailers too.  Knowing your business partners is more important today than ever before (especially with AML Compliance requirements).   With membership, retailers can evaluate risk with suppliers.
2) Marketing 101:
JBT's targeted, competitively-priced lists allow you to identify prospects by geography, business type, credit rating and/or type of product. They also offer "Prime" marketing lists, which provide a more concentrated prospecting list with enhanced filters.
3) Get Paid! 
As a member, you can enlist JBT to place a collection claim against the debtor who owes you money.  Once JBT is in involved in collecting your receivables, you have the option of choosing the Free Demand Period.  If this still doesn't do the trick, JBT Senior Collectors, certified by the Commercial Collection Agencies of America, will work aggressively to recover your receivables. If even that doesn't work, JBT's network of affiliated attorneys can take things to the next level, including pursing legal action if necessary.
There are countless other reasons to become a member of JBT, so make sure you carve out some time to speak with Brenda Gamba at the show next week in person. Her smile and knowledge await in booth 1000!
The JA New York Show is running March 11-13 at the Jacob Javits Center in New York City. Click here to register to attend!